PRESS RELEASE:
Thursday, October 20th, 2022
ATLANTA ­– Today, Team Herschel released the following statement in response to a report that Raphael Warnock has raised 73% more money in California than he has in Georgia. This is no surprise seeing as he votes in lockstep with Joe Biden to support the liberal woke agenda.
Raphael Warnock "leads the pack in 2022 campaign donations from individuals in the TV/Movies/Music sector with nearly $1 million raised, according to the Center for Responsive Politics."
Georgia doesn't need their junior Senator selling out to Hollywood and prioritizing California's interest above our own. This November, we need a strong leader to go to Washington and stand up to Joe Biden and his woke agenda. Someone who understands what Georgians really care about and will work tirelessly to clean up the mess that Raphael Warnock and Joe Biden have made.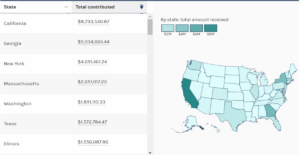 "I can't say I am surprised that Raphael Warnock has raised 73% more money in California than in Georgia," said campaign spokesman Will Kiley. "Raphael Warnock has gotten used to lying to Georgians, but his biggest lie has to be his claim that he represents Georgia in Washington. Warnock went to Washington and spent two short years voting to support a woke agenda Georgians oppose. It is time to send someone to the Senate who will answer to the people of Georgia and not be California's third Senator."